Enjoy a brand refresh with a snapshot of one of our best-selling brands, NuFACE, and their highlighted product, the NuFACE Mini!
About the Brand
NuFACE treats your skin at every level using Microcurrent Skincare™. The mother-daughter founders and microcurrent aestheticians Carol Cole and Tera Peterson have expertly created a line of clinically shown microcurrent devices that treat your face and body skin at every level and topical skincare to enhance and re-energize.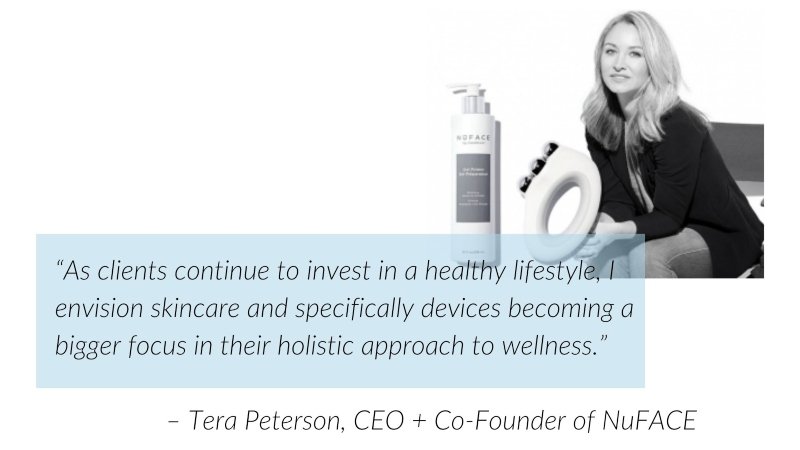 Perfect for all skin types and age groups, this skin-exercise, as Tera calls it, acts as a workout routine for your skin—devices are your exercise and topical skincare, like many of the brands on our site, is your nutrition. Together they help tone, firm, and smooth the look of wrinkles for beautiful, long-lasting results.
Customize Your Treatments
Every NuFACE device uses a gentle microcurrent, but each is designed for different treatment areas and skin conditions.
Take the large spheres on the Trinity Facial Trainer, for example: they are perfect to contour, lift and firm your neck, cheeks, jowls, and forehead whereas the ELE attachment for Trinity is a precise treatment for eyes and lip helping treat laugh lines, crow's feet, and lines between your brows – you need a smaller sphere to work with the smaller muscles. You can even use the ELE to pop your brows and plump your lips.
The NuFACE Mini Facial Toning Device
NuFACE Mini is a petite, portable, and powerful microcurrent facial toning device that's FDA-cleared for facial stimulation. This device gently stimulates the larger surface areas of the face–such as the forehead, cheekbones, and jawline–to provide a five-minute facial lift and help improve your appearance.