Want to be the star this Christmas and wow your friends and family with the best gifts? Then why not make your own! Here, you can learn how to build your own beauty hamper, and WIN one too by heading over to our Facebook page for our fantastic giveaway!
If you know a beauty addict or two, they'll love nothing more than receiving a bundle of gorgeous products. Combine beauty products with a touch of crafty, handmade love and thought, and you're looking at creating a home-made beauty hamper.
What more could anyone want?
Putting together a handmade hamper of beauty treats means you get to hand-pick the items, fill up as you please, decorate to their tastes and look like a super thoughtful person when you hand over the delightful basket. To make it easier for you, we've highlighted what you will need and what to do to successfully start building your own.
Let's go!
The Products
A luxury beauty hamper should represent a full skincare and beauty regime if it's going to be a real treat for the lucky lady. This includes a cleanser, a make-up remover, a moisturizer/night cream and an eye cream as priority, because who wouldn't appreciate some new essentials?
We've recommended the Caudalie Instant Foaming Cleanser - a 99% natural, soap-free liquid cleanser that turns into a generous, airy foam for gentle cleansing. There's also the effective and refreshing micellar cleansing water and nourishing moisturizer from Vichy, and the Sundari Chamomile Eye Oil, which smooths and replenishes the delicate skin area around the eyes.
The other items can be as indulgent as you like to personalize the hamper for your chosen person. For our hamper, we've added in a lip gloss (the gorgeous Gen Nude Matte Liquid Lip from bareMinerals), a tangle teezer (because it's a hair essential - right?), an Original Beautyblender (no better tool for creating a flawless face), a luxury hand cream set from AHAVA and a premium overnight hair mask from Grow Gorgeous for the ultimate girly pampering kit...
We wanted to embrace the new launch of Tangle Teezer on SkinStore by adding one of these iconic hair saviours into the hamper. You'll struggle to find a lady out there who wouldn't appreciate receiving one of these chunky brushes, seeing as they correct a multitude of hair sins! From eliminating tangles and knots, to minimizing breakage, splitting and damage caused by mistreatment, it's perfect for all hair types.
What you will need:
x1 Wicker hamper basket x1 Pack of tissue paper x1 Scissors x1 Roll of ribbon x1 Double-sided tape x1 Gift tag x1 Pack of glittery sprinkles x1 Pack of shredded paper x1 Sheet of cellophane Selection of beauty products!
Method: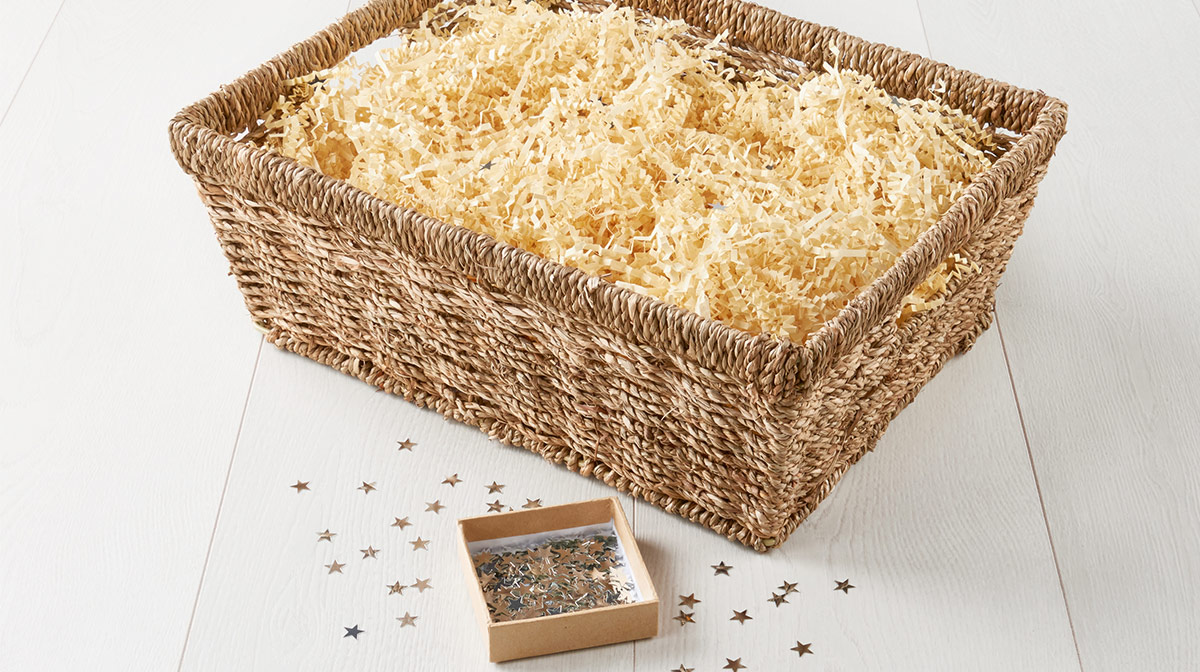 1.
Step 1: Fill your hamper basket
1. Source a large wicker basket which can also be used afterwards, so that the person receiving has double use! Wicker baskets actually make great magazine storage in case you didn't know... 2. Go for a size which measures L-35cm x W-25cm x H-20cm minimum. You want it to be quite deep and roomy to fit all the padding and products. 3. Arrange shredded paper and glittering stars as a filler.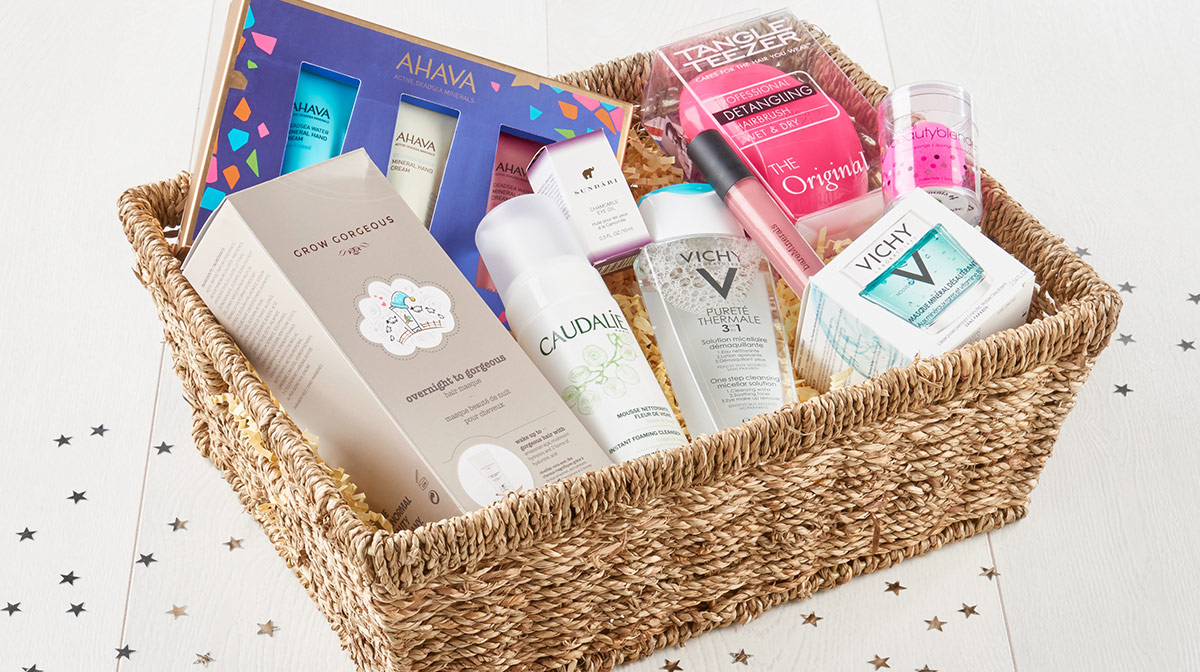 2.
Step 2: Place products strategically
4. It's all about appearances! Lay out your products in a neat, clear layout, so that each product is front facing. Be creative and play around with angles and positions. 5. Sprinkle left-over sequins, glitters, foil confetti and shredded tissue to nestle the products into place.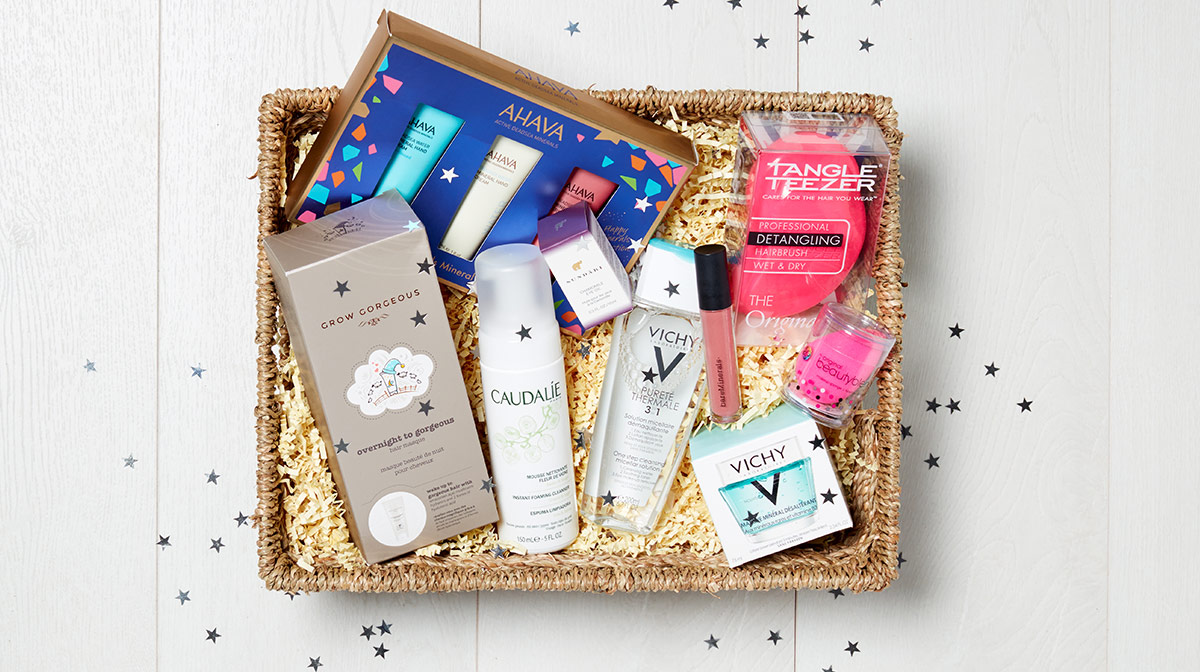 3.
Step 3. Cello-tape where necessary
6. For any awkward items which won't sit in place, use double-sided scotch tape to stick the items down. 7. Then, roll out your sheet of cellophane. Along the width edge, place a piece of double-sided tape and slowly move your hamper on top of this. This creates the perfect way to start wrapping your cellophane around the box, starting from the underneath, bringing it out over the top.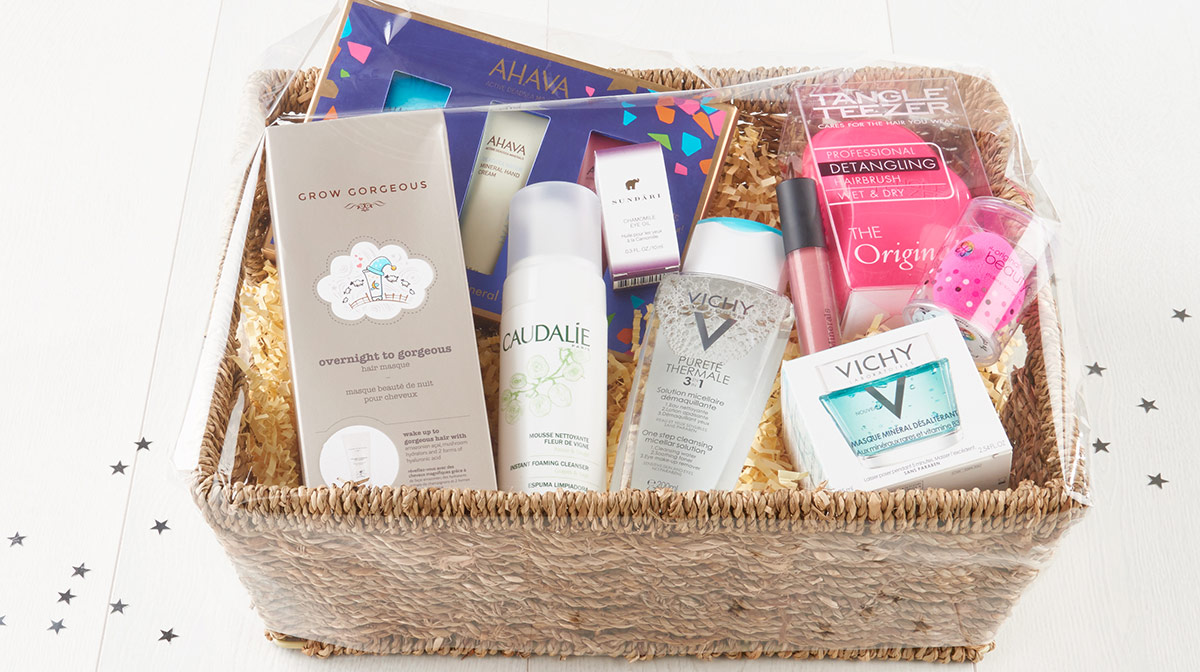 4.
Step 4: Cellophane to decorate
8. Cover the hamper basket and the products with the sheet of cellophane, ensuring it is securely cello-taped underneath. Keep all overlapping and tape to the bottom of the basket, so that the products all look neat, in place, and pretty!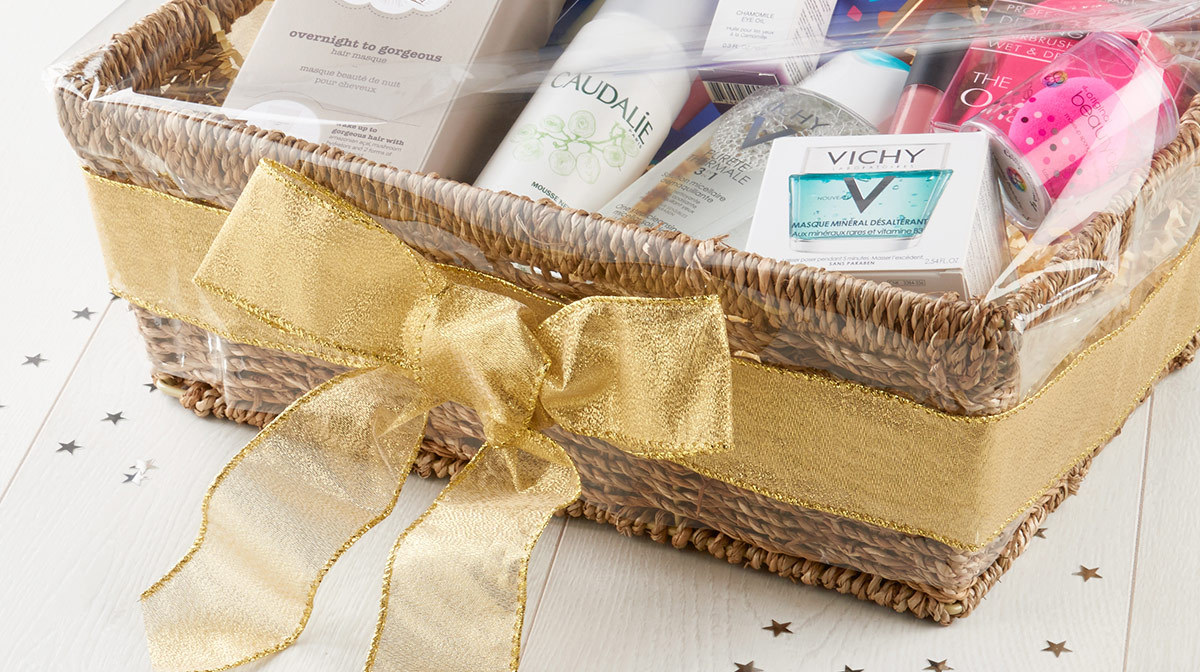 5.
Step 5: Add your bows, ribbons and anything else required!
9. Decorate your hamper to your chosen person's taste. You really can't go wrong with sparkly gold if you're a little bit stuck! Use a chunky ribbon to wrap around the sides of the box and secure with a bow. 10. Thread through a gift tag and position to the front, near the bow. Make sure to pen together a nice personal message.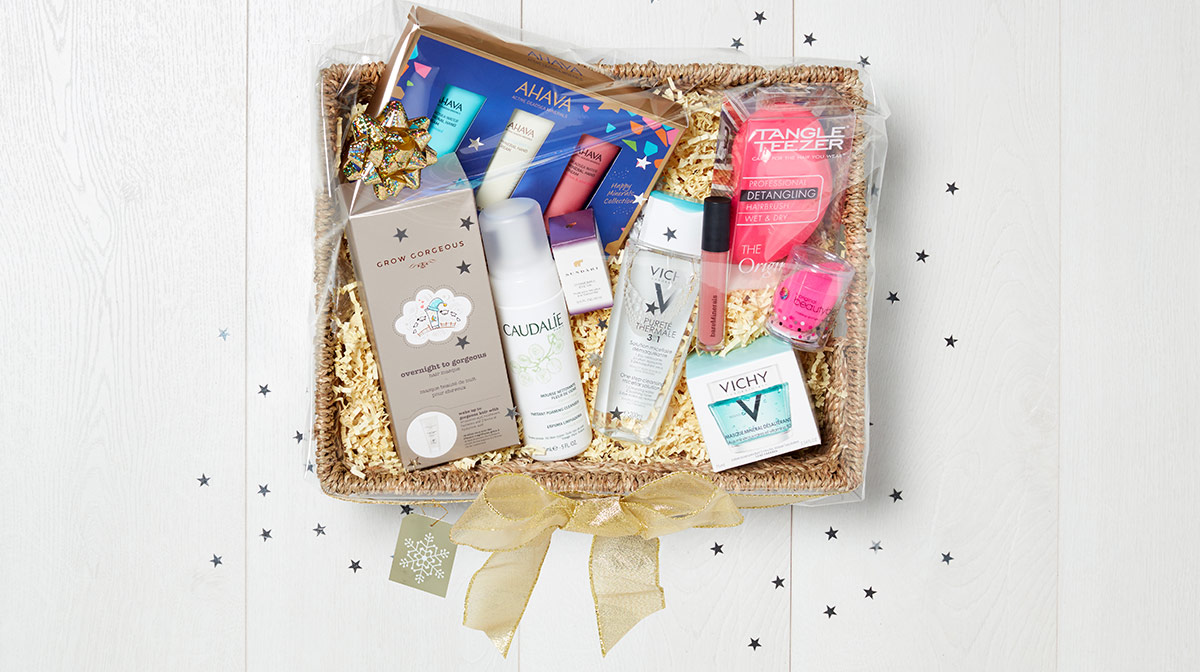 6.
Step 6: Get ready to gift!
10. Snip away at any loose ends, and use this last stage to embellish however you please. You could use shiny thin ribbon made into spirals with your scissors to tuck into the gold ribbon, 11. Hand over to the lucky recipient!
Now it's your chance to WIN one of these luxury hampers! Just head to our Facebook page now for a chance to have one delivered to your door this holiday season…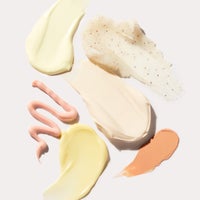 Our team of beauty experts cover everything from skincare to makeup, picking out the most effective products from the best brands and latest trends. Stay up to date on everything beauty with the SkinStore blog, and find all your essentials in one place.