Getting rid of acne scars is one of the most prevalent skin conditions in the world, and its effects can go beyond the skin, undermining self-confidence and causing anxiety. The pesky condition can also leave long-term scars, created by severe inflammation or external factors, like picking and popping pimples.
Luckily, there's no need to deal with acne scars for a lifetime. If you're wondering how to get rid of acne scars, rest assured knowing that there are plenty of ways to reduce and erase acne scars.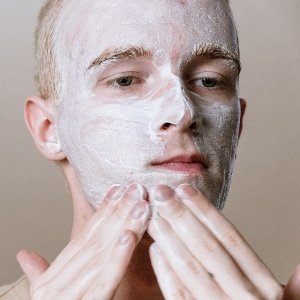 The first step when dealing with acne scars is to stop your breakouts in their tracks. It's important to first prevent further irritation and scarring before trying to deal with the aftermath. To that end, try adding products for acne scars into your regular skincare routine. Products like acne cleansers can sweep away impurities that could be causing flare-ups while correcting serums can be great for curbing oiliness and unclogging pores. When shopping around, look for clarifying ingredients that combat hyper-pigmentation, like vitamin C, retinol, and alpha-hydroxy acids such as glycolic and lactic acids.
If you've got your acne under control, go ahead and investigate different avenues of acne scar treatment. Consult a dermatologist for the best advice on how to proceed, as there are many types of acne scars varying in appearance and severity. For example, atrophic or depressed scars are caused by insufficient collagen production while healing. On the other hand, hypertrophic or raised scars are the product of too much collagen production. And dark spots or discoloration after the acne has cleared are not scars at all, but will simply fade on their own with time, typically over a few months.
For most types of acne, laser treatment is the most precise option to lighten and flatten the scars. Micro-needling is also an efficient way of refining skin tone by stimulating collagen production. For those looking for more affordable and low-commitment treatment, chemical peels can minimize acne scars by renewing the top layer of skin through vigorous exfoliation.
Get to know your options and explore our selection of the most effective products for treating acne scars.
Top 5 Products To Get Rid of Acne Scars
1. Rapid Dark Sport Correcting Serum
2. SkinCeuticals Discoloration Defense Dark Spot Serum
3. Hero Cosmetics Mighty Patch Micropoint for Dark Spots
4. La Roche-Posay Pigmentclar Brightening Foaming Cream Cleanser for Dark Spots
5. Dr. Dennis Gross Dark Spot Sun Defense Broad Spectrum SPF 50 Sunscreen