Chlorophyll is a term that you may associate more with high school science class than skincare. But as it turns out, this green pigment is actually linked with a host of beauty benefits. Essential to the life of plants, it can also work wonders for your complexion.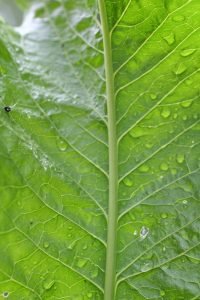 If you remember your biology correctly, you'll know that chlorophyll is a green pigment found in all green plants. It's what's responsible for absorbing light so that plants can have the energy to undergo photosynthesis. When it comes to skincare, chlorophyll is no less of a heavy-weight. Its antioxidant and anti-inflammatory properties make it a powerful ingredient that has been linked with reduced acne and pore size. Chlorophyll can be cleansing, purifying, and refining, helping to prevent breakouts and facilitate cell repair.
Importantly, chlorophyll's chemical composition includes magnesium, which in high levels can promote the transport and storage of oxygen in skin cells. This leads to increased nourishment for skin, and a healthier, glowy appearance.
Chlorophyll is also full of vitamins A, C, E, and K, which all go towards making skin look brighter and more beautiful. They're also great for reducing the visibility of imperfections like fine lines, wrinkles, and dark spots from sun damage.
Curious to try some chlorophyll for yourself? You can find this intriguing ingredient in masks, soaps, ointments, and more. Or, if you're looking for products that have similar benefits to using chlorophyll, read on to discover SkinStore's pick of the best for you.
5 Products that Replicate the Chlorophyll Effect
1. Erno Laszlo Multi-Task Eye Gel Cream
2. HUM Nutrition Daily Cleanse Clear Skin and Body Detox Supplement
3. First Aid Beauty Ultra Repair Cream
4. La Roche-Posay Effaclar Adapalene Gel 0.1% Retinoid Acne Treatment 1.6 oz
5. PCA Skin Sheer Tint Broad Spectrum SPF 45