The nation's favorite occasion to dress up is creeping close. Whats not to love about having an excuse to be a corpse bride for the day?
Thankfully, the days of popping on pre-made frightening masks are over, thanks to us being crazily creative with make-up. We don't have to be an artistic genius to really make a scene this Halloween: we just need the right tools, the right products, and a wild imagination. And we think you have it!
For some first class spooks-spiration, we stumbled across this fantastic Instagram account – the.horror.hub – which we're currently obsessed with. If you're wondering how on Earth you can get-the-look, we've made is super easy for you below.
Enjoy! Now go scare…
Pink and Purple Fright Face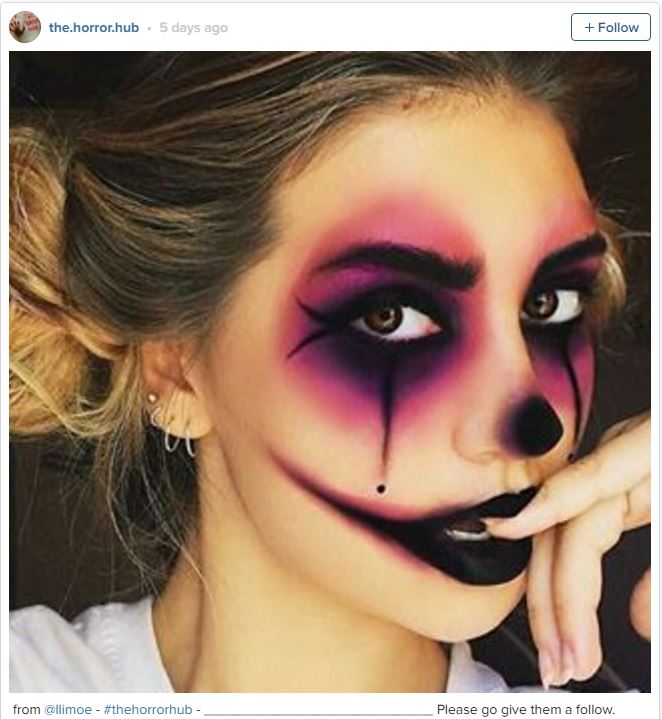 Use your usual foundation and create a flawless base. A little more application than usual may be required for full coverage and a long-lasting look. We love

Dermablend Intense Powder Camo.

Next, master the eyes first. Take a multi-color eye palette with lots of bold pinks and deep purples –

Laura Geller's The Delectable Palette

ticks all boxes here. Using precision eyeshadow brushes, layer up your eyelid and the area above in deep purples and navy, layering up until both eyes are dramatic dark purple as above. Then, take a high pigment pink shade, apply with a fluffy, larger eyeshadow brush, and sweep around the brow bone and orbital bone so you are creating a faded pink shape all around the eyes. Blend into the top of the cheeks and just keep blending and layering!
Take one of the darkest shades of eyebrow pens and start to build up your brows as solid, thick arches. We find that if you use

Anastasia's Universal Deep Pen

, you can continue to use this to create OTT eyeliner flicks above the lash and below. It's so simple to use – just build up lines and flicks as desired!
Take a black or dark grey eyeshadow and start to swirl eyeshadow to the nose tip.
Using a dark and sultry lipstick, such as

Lipstick Queens Bete Noir Possessed Sheer Lipstick

, paint all over lips. Then, take your Anastasia pen from before, and build up an oversized smile from the mouth corners to the cheeks. Finish by smudging in remains of pink eyeshadow.