If you love to use face masks as part of your beauty regime, you will potentially have tried clay masks, or at least heard the hype. Clay has increasingly become an extremely popular ingredient in beauty products due to it having multiple benefits, including helping to restore and cleanse damaged or stressed skin.
Clay is a natural ingredient formed over hundreds of years  ago, and is dense in minerals that are beneficial to our skin. It is sourced from different areas of the world; each with different unique properties and benefits to different skin types and concerns.
With so much choice out there, it can be hard to decide which type of clay would be best for you and your skin. To make it easier, we've rounded up the best clay face masks, with a focus on the ingredients in each one...
Bentonite clay
This clay is a perfect skin detox ingredient. It has constituent minerals such as iron, sodium, calcium, potassium and magnesium and is formed from volcanic ash. Bentonite has a very strong negative electrical charge (which bonds to positively charged toxins) making it excellent to detoxify both the skin and body.
When it comes in contact with a toxin, heavy metal or chemical, bentonite absorbs it and helps to remove it from the body. Bentonite clay also pulls hydrogen from cells, allowing room for oxygen. This helps with circulation, and overall skin tone and health.
Best for: Skin that is sensitive or prone to breakouts.
French green clay
Also known as Illite, it is mined from quarries in France and has a rich dark green colour due to high levels of Iron Oxides and concentration of plant matter (rich in natural mineral content).
This type of clay is extremely effective at absorbing excess oils from the skin, drawing out sebum from the pores making them appear tighter and leaving the skin more toned. Its also been proved effective at reducing inflammation in acne.
Best for:Oily skin or skin with poor circulation
Kaolin clay
Kaolin comes in a variety of colours most common are yellow, red, and pink, all of which have different benefits:
White kaolin cla

y is the gentlest and great for more sensitive or dry skin on the face its most effective on skin prone to eczema and dermatitis, white clay doesn't absorb as much oil as some other clays and is best used for softening and improving the texture of the skin.

Yellow kaolin cla

y is slightly more absorbent and grainy making it better for exfoliating but it is still gentle enough for sensitive skin.

Red kaolin clay

is the most absorbent and can be quite gritty, its great for use on the body or excessively oily skin on the face.

Pink clay

is suitable for all skin types and offers gentle exfoliation and is a mix between red and white clay in terms of benefits.
If you have ever had a Rasul treatment in a spa, Kaolin is usually the clay used.
Best for: Soothing sensitized skin and gentle exfoliation
Rhassoul clay
This silky brown clay is specifically found in Morocco. It has an exceptionally high silica and magnesium content making it excellent for all skin types. The difference with this mud is that it can also be used in your hair as a hair and scalp treatment and it is quite often found in both hair and body washes due to its excellent cleansing properties.
Best for: Removing impurities and deep cleansing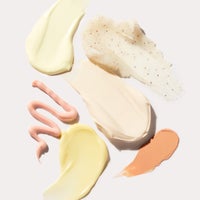 Our team of beauty experts cover everything from skincare to makeup, picking out the most effective products from the best brands and latest trends. Stay up to date on everything beauty with the SkinStore blog, and find all your essentials in one place.