When we think about the factors that damage the health and appearance of our skin, the sun is usually the first that comes to mind. Yes, UV rays and the free radicals they generate are a primary source of premature aging, but there are several other environmentally-based skin threats, including the sun's infrared-A (IR-A) rays as well as ozone pollution created by car emissions, power plants, cigarette smoke and other chemicals—especially when they react with sunlight. Together, these elements contribute to "atmospheric aging" that can lead to fine lines, wrinkles, discoloration, uneven skin tone and blemishes.
SkinCeuticals' daily antioxidant serums are proven to neutralize the free radicals produced by UVA/UVB rays, infrared rays and ozone pollution—and defend the skin against atmospheric aging. However, it's important to understand that all vitamin c antioxidant serums are not created equal. SkinCeuticals' pioneered the research that identified the parameters that are necessary to formulate an effective vitamin c antioxidant serum, which include:
Using pure vitamin C (L-ascorbic acid)
A formulation with a pH of 3.5 or below
A concentration of 10-20% vitamin C
Based on this research, SkinCeuticals has created a family of antioxidant serums that includes options for all skin types and concerns. Featuring synergistic ingredient combinations that are proven to penetrate the skin and provide amplified protective and corrective results (as compared to these individual ingredients alone), it's easy to discover which SkinCeuticals antioxidant serum is ideal for your skin.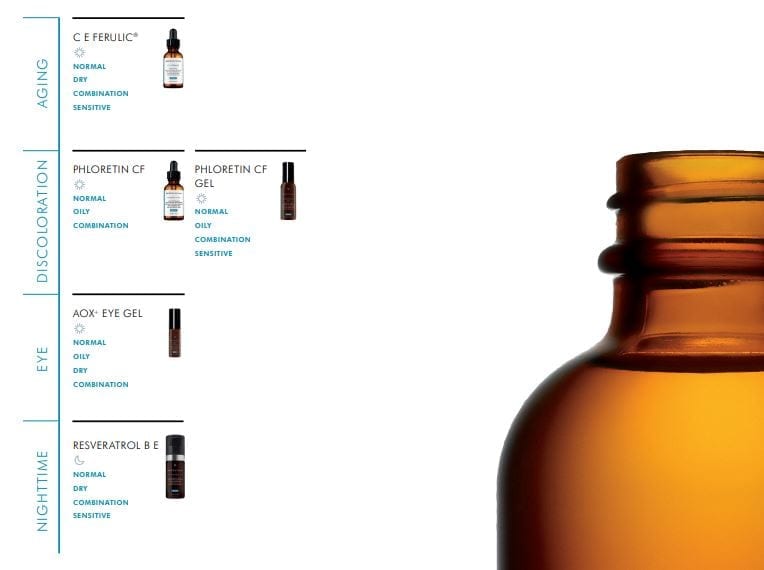 For aging skin…
C E Ferulic: This 31-time award-winning serum is ideal for normal, dry, combination and sensitive skin—and is proven to improve the appearance of fine lines, wrinkles, skin firmness and brightness. Its combination of vitamin C, vitamin E and ferulic acid provide potent and comprehensive free-radical protection