Instagram is fast becoming our main source of beauty inspiration, and the latest one it has hand delivered us it a little unusual. Introducing Feather Eyebrows - an eyebrow trend going above and beyond the usual groomed eyebrows.
https://www.instagram.com/p/BTUMK7BF6AN/?tagged=featherbrows
Although this look is possibly achievable for the everyday work, meetings, 'professional' life matters, it has gave us some serious inspiration around brow grooming. Just how many of you actually brush your brow hairs upwards? Or get creative by brushing in different directions, and setting with clear gloss/clear balm?
https://www.instagram.com/p/BTX2_72BRwn/?tagged=featherbrows
In a bid to be more experimental with brows, we've selected some our the best eyebrow products at SkinStore which can help you tame and shape those unruly brow hairs. If the feather trend is a little too novelty for you, then why not try brushing upwards, or brushing some hairs up, and others down to get a little more creative!
Brow Brushes
A brow brush with rounded bristles will literally sweep, neaten and grrom brow hairs to sit wherever you want them to. Brushing upwards is a nice way to give your face a 'lifted' look, but just be careful to keep a pair of eyebrow scissors to hand! You may find brushing your brows highlights some extra long hairs that will sit out of place.
A handy product to keep is a pencil eyebrow product with a brush on the end, so you can shade in the colour, and brush in the pencil as you go, blending in any harsh lines
Tweezers
Once you have brushed and groomed your brow hairs, pluck any stray hairs that sit underneath to give shape. Make sure no sparse brow hairs are sat underneath your arch, and also pay attention to the whispier hairs towards the end.
Brow Gels
Once your brows are all groomed and designed however you please, brush through a clear brow gel to give holding power. A good quality clear brow gel works with pencils, powders and brow gels to seal and protect the brow hairs, great for anyone too busy to reapply and touch up throughout the day.
Glossy Balms
Taking your brows to another level, why not add a touch of gloss to them? Especially for those evening occasions where you want to add a touch of subtle drama, or for a more glossy, wet-look when on the beach. Just choose a lip balm type product, ideally one that conditions but leaves a little shine behind too.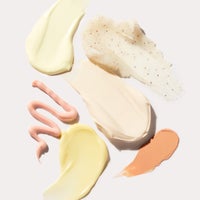 Our team of beauty experts cover everything from skincare to makeup, picking out the most effective products from the best brands and latest trends. Stay up to date on everything beauty with the SkinStore blog, and find all your essentials in one place.