Everyone loves a bargain, but if a skincare deal sounds too good to be true, it probably is. You get what you pay for when you purchase SkinCeuticals' award‐winning products—so long as you buy them from an authorized retailer. But if you don't, you may pay a different type of price.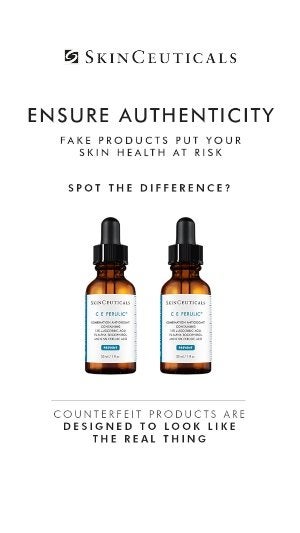 Counterfeiting is a major issue in the skincare world, and it can be difficult to tell the difference between a fake and the real thing. From ingredients and their concentrations to manufacturing and storage practices, there's no way to know what went into a counterfeit bottle or where it's been. Yet two things are for sure: Counterfeit skincare products are unsafe to use and can have dire consequences for your skin—and the risks include interference with in‐office procedures, allergic reactions, infections, rashes and redness.
Is Your SkinCeuticals Authentic or Fake?
According to the California‐based The Counterfeit Report and other sources, pharmaceuticals and personal care products, including skincare and cosmetics, are among the top five types of products seized by U.S. Customs and Border Patrol agents.
Such products include old bottles refilled with cheap imitation creams, or bottles made to look like their real counterparts that are filled with imitation creams.
This means that skincare products sold by unauthorized retailers can very well be expired, have packaging refilled, or other tricks with reduced pricing
How Having Fake SkinCeuticals Products and Other Skincare Can Ruin Your Skin
Counterfeit skincare products are unsafe to use and can have dire consequences for your skin.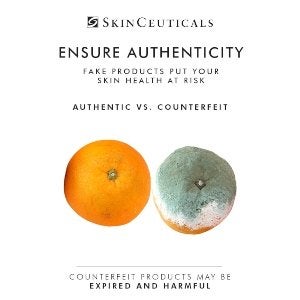 Yet, counterfeit products aren't the only potential problem associated with unauthorized retailers. Shady websites often slash prices on expired products and remove the expiration date from the package. It is important to remember that some ingredients, including vitamin C and retinol, degrade when exposed to air, sun, and heat, and over time—and can have a detrimental effect on the skin.
Illegal or toxic ingredients can also find their way into counterfeit products, as well. Mercury, arsenic, lead, other harmful toxins, allergy‐inducing fragrances, and preservatives not approved for use in the U.S. have all been found in counterfeit products.
The cost of proper storage contributes to the price of authentic products from SkinCeuticals (as well as other brands), and products sold online are often stored in warehouses without climate control. Non-optimal temperatures can damage the integrity of skincare products. 
Red flags when purchasing products from an unauthorized retailer:
The packaging differs ever‐so‐slightly from the authentic brand or just might look a little bit "off" ( i.e., it might have a different color or lettering on the product) 

The price is lower

The product's texture doesn't feel or look like an authentic one from the brand 

Flea markets, mall kiosks and unknown websites are never authorized retailers

Even some commonly‐known websites are not authorized retailers
Remember, you do get what you pay for when you purchase authentic SkinCeuticals skincare products. Our extensive research, clinical studies, medical‐grade ingredient quality, stringent formulation practices, and utmost quality control are all factored into our pricing—and contribute to skin improvement you can see and feel. 
Still not sure if you're purchasing SkinCeuticals products from an authorized retailer, either in person or online? Click here to see an official list of authorized and unauthorized SkinCeuticals retailers. Remember, paying a few extra dollars upfront can save you a lot more in doctor bills, as well as pain and suffering.
If you believe you may have been duped by a SkinCeuticals counterfeit, please click here to report it.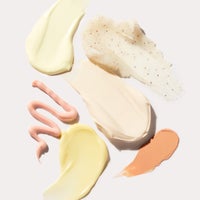 Our team of beauty experts cover everything from skincare to makeup, picking out the most effective products from the best brands and latest trends. Stay up to date on everything beauty with the SkinStore blog, and find all your essentials in one place.