Hyaluronic acid is trending in the skincare world for a reason. Capable of retaining 1,000 times its own weight in water, this highly effective hydrating ingredient is a must for maintaining and enhancing the skin's moisture levels.
In addition to delivering surface hydration that keeps the skin looking fresh and feeling comfortable, supplementing the skin with hyaluronic acid can also help prevent moisture from evaporating from the skin, especially in dry environmental conditions. Hyaluronic acid provides anti-aging benefits as well by helping skin look and feel more smooth, firm and plump.
What is Hyaluronic Acid?
You already know hyaluronic acid is a beneficial skincare ingredient, and you're likely also aware that it is a type of injectable filler as well. But hyaluronic acid's uses don't reveal anything about its origins. Technically a sugar that is produced by the body, hyaluronic acid is naturally found in the skin, joints and eyes. Its hydrating capabilities keep joints lubricated and maintain moisture in the eyes and skin. Hyaluronic acid also helps reinforce the skin's barrier to prevent much-needed moisture from evaporating and microorganisms from entering.
The body's natural hyaluronic acid production slows with age, leading to increased skin dehydration, loss of elasticity and a dull appearance—which is why it's such a valuable addition to any skincare routine. Here are three products that give your skin the daily dose of hyaluronic acid it needs.
SkinCeuticals H.A. Intensifier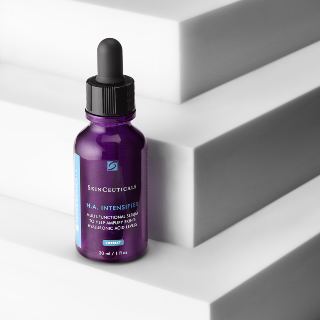 Hyaluronic acid is especially beneficial for those with dry skin accompanied by visible signs of aging like wrinkles, skin sagging and volume loss.
In addition to instant hydration, smoothing and plumping, H.A. Intensifier also helps maintain the skin's level of hyaluronic acid over time.