For this weeks session of our Deck Your Beauty Haul series, we're bringing along Regine Berthelot, Expert Treatment Esthetician at Caudalie.
Here, Regine shares her ultimate holiday beauty tip with you all, along with 3 key beauty buys which are totally worthy of being on anyone's treat-yourself-beauty-haul. Because as we say every week: everyone deserves to spoil themselves this Christmas, as well as others!
Meet Regine Berthelot, Expert Treatment Esthetician at Caudalie.
Bojour! I have been an Esthetician for 33 years, in which I began this career after graduating from beauty school in France. I first worked at Chanel, followed by Frederic Fekkai and Caudalie – for almost 9 years now. I have been treating wonderful loyal clients in our spas including many celebrities too (Sigourney Weaver, Rachel Roy, Nina Garcia, Joseph Altuzarra, to name a few).
Working as an esthetician for Caudalie is a really special role for me. I like the human size of the company, the personable approach, and working directly with the owners. I regularly create treatment protocols for our spas with Mathilde Thomas, the owner and founder of Caudalie.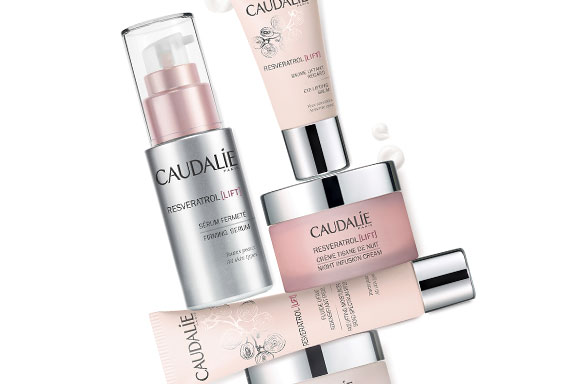 Regine's Ultimate Christmas Beauty Tip
My number 1 beauty tip for the holiday season is based how to get a holiday glow for your face and body, especially when it's so cold outside. Winters in NY are freezing, so you want to cocoon your skin with moisture:
I keep my skin very hydrated with a weekly Gentle Buffing Cream to exfoliate the dead cells, and the Caudalie Moisturizing Mask to lock in moisture. Layering a serum and a moisturizer will help your skin stay hydrated on a daily basis.
As for the skin on the body, it should always be treated by exfoliating and nourishing, using products such as the Divine Body Scrub and Divine Oil. If the skin is super dry, I layer a Vine Body Butter on top of the oil for a double moisture treat. It's truly wonderful!
Regine's Top 3 Beauty Haul Products
For a glowing complexion, rejuvenated eye contour and healthy hair for the holiday, I recommend:
$25.60 Buy now

with Skinstore US

This luxurious dry oil moisturizes, nourishes and enhances the skin thanks to its unique formula of exceptional oils. It's lovely to use after exfoliating the skin with Caudalie's Divine Body Scrub.

Buy now with free delivery

$99.00 Buy now

with Skinstore US

The Caudalie Premier Cru Eye Cream is the ultimate eye cream that instantly transforms the look of the eye area.  It moisturizes, firms and brightens – all in one!

Buy now with free delivery

$25.00 Buy now

with Skinstore US

To have a glowing hair style to match the skin, I love the Frederic Fekkai PRX Reparative Mending Elixir, this Velvety Elixir will hold your hair style, nourish dry ends and provide a beautiful shine to your hair

Buy now with free delivery