Beauty gurus, meet gua sha- the latest trend in skincare that's actually been around for hundreds of years. This ancient Chinese remedy for facial and muscle relaxation has been lauded for centuries in its native land, so it's long overdue for you to get in on the goodness! Read on to learn more about what is gua sha and a brief history of this intriguing skincare tool.
What is a Gua Sha?
Gua sha is a therapeutic method of relaxing the muscles and promoting circulation in the skin by using the flat edge of a small, rounded stone to massage the skin. The character 'gua' means to stroke or abrade, and 'sha' refers to the light redness that appears on the skin with such treatment. Traditionally, the stone is made of jade, although today you can choose your beauty tool to be carved from a variety of crystals, like onyx and rose quartz. It's a minimal setup that comes with a host of health and beauty benefits for the skin.
First invented way back in the Yuan Dynasty, this stone was originally used as a quick fix for sunstroke and seasonal diseases like colds. The point was to stimulate qi, also spelled as chi, the quintessential energy that ancient Chinese practitioners believed animated the body. When qi goes stagnant, it leads to conditions like inflammation, sluggish blood flow, and overall poor health. The beauty tool combats this by revitalizing the skin and was used all over the body as well as on the face.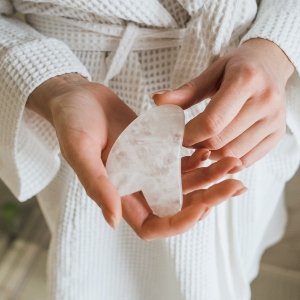 Key benefits of this beauty tool include muscle relaxation, lymphatic drainage, boosted blood flow, and reduced inflammation. Studies even show that it can increase circulation by up to 400%, speeding up the export of toxins and intake of vital nutrients and oxygen. That translates to perks for your face like reduced puffiness, relieved tension, and rejuvenated skin tone with less visible fine lines and wrinkles.
How to use it is as simple as can be. Use the curved edge to stroke over the skin with light pressure, always with short strokes in one direction. Work it across your brow bone, between your brows, and down your neck to sweep away any lingering tension. Or, hold the flat side of the stone to the skin under your eyes or any particular stress spots to eliminate stress. Just be sure to always use facial oil or lotion with each use to help it glide easily and protect your face. You can also refrigerate the tool before use for a soothing cooling effect.
Don't be alarmed by the redness that appears after use; this temporary flush is a desired effect that will soon give way to calm and improved skin. The goal is to have the skin undergo a light, controlled trauma. It will react to the stimulation by producing new collagen, leaving the skin looking and feeling more supple and refreshed.
5 Best Gua Sha for Gorgeous Skin
1. ESPA Rose Quartz Gua Sha Tool
2. Beauty ORA Crystal Roller and Gua Sha Set for Face and Body – Rose Quartz
3. Jenny Patinkin Transforming Petite Gua Sha Butterfly
4. Osmosis Beauty Rose Quartz Roller and Gua Sha Set
5. MZ Skin Instant Radiance Facial Kit